The Internet is amazing, right?
From the pioneering of the infantile World Wide Web in 1990 up to its leading function in present-day lives, the Internet certainly has revolutionized the way the modern world retrieves knowledge. And it doesn't end here, which leads me to question: What lies in the path of the Internet's future; of our future?
The more the technology industry flourishes, the more people tend to depend on their smartphones and laptops. There is a positive correlation between the two. However, how far is this actually going to go? Smartinsights.com [https://bit.ly/2BXGa2X] suggest '50% of all search queries are from mobile devices'; perhaps due to their practical portability. Forget the keypad; let's talk- literally.
Content marketing freelance writer Christopher Jan Benitez [https://christopherjanb.com/] found that the voice search tool was a top SEO trend in 2017. Who knew that Siri handles more than 1 billion requests per week? Not only that but in 2015 AmazonEcho was the fastest-selling speaker. Of course, consumer expectations have risen- and so they shall continue by virtue of this novel attitude.
According to Microsoft, data shows the typical search inquiry to average around 2-3 words.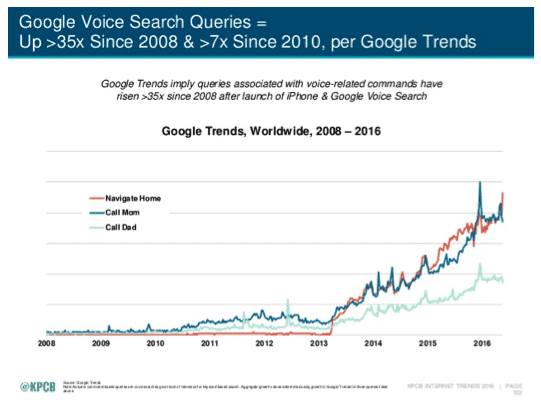 Statistics from SEO Tribunal [https://bit.ly/2RsLcdd] show that, as of June 2017, primary reasons for using voice-enabled technology include:
60% of smartphone users worldwide use for online searches
51% on finding an interesting product
34% finding information on local businesses

52% use the technology to search for deals, sales, and promotions
Already we can see there is a lot of use in searching for business-related information in particular.
Now, for marketers, there undoubtedly will be implications; tips to take into account for your business. Don't forget this can be a good thing. For example, firstly, from my intuition, it is always useful to add FAQ and Q&A content to your website which supplies immediate ease and support to your customer base. That way the voice search will bring up your website encouraging viewers to discover your services. This will encourage more business for you! Even a click is something to appreciate as it grows your site activity on Google Analytics. Therefore, expect more activity over time.
Next, let's discuss the talkative nature of speech. It is naturally more colloquial than writing, so thoroughly considering keywords and phrases to include in basic questions via speech is productive. An example is for someone to say 'Siri: Find good clothing websites'. This is enough for Siri to bring up relevant searches, but will your clothing website be at the top? Instinctively your site works at a more advanced level and you expect more specific terms like 'business casual' or 'sportswear', but sometimes including elemental words like 'find' and 'good' are all it takes to reach customers. In fact, I tried typing this request into Google and there was a list of typical websites appealing to young girls; I would know because I am one of them. Perhaps try comprising your URL of specific and broad terms mixed together, as this may increase the likelihood of more promising results for your business. Try to treat the terms like hashtags- another trend.
The future of search is indisputably powerful. Technology is extremely dynamic, yet the irony of it all is that it is heading back to where communication started: The voice. For businesses, success is insight on the route that search methods are taking. We may as well just shout 'Hey, wait up' and we should achieve our goals in no time.