Which is the best paid search platform?
When we think of pay-per-click (PPC) advertising, two platforms spring to mind. In one corner, we have Microsoft Ads (formerly known as Bing Ads), and in the other corner we have what is considered the daddy of PPC platforms, Google Ads (again, formerly known as Adwords).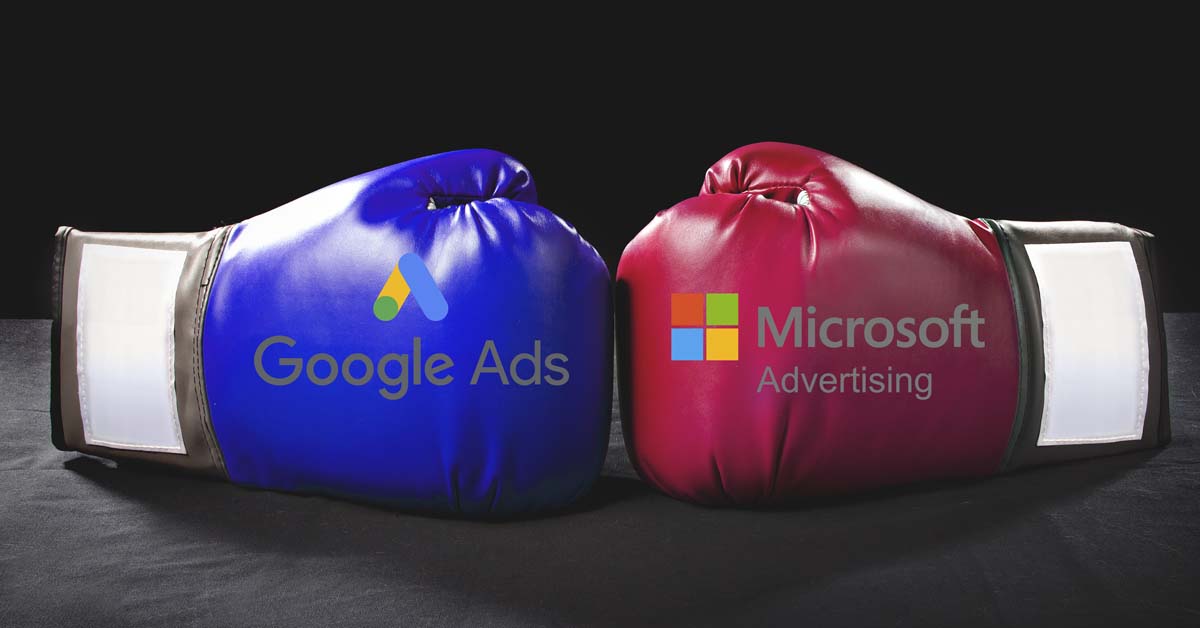 But, is the choice between the two as clear-cut as people make out? For example:
Who has the larger audience to target and increase reach?

Which paid search platform is less expensive?

Who has the more advanced targeting options?

Ultimately, which platform will provide me with the most ROI?
Whilst there will always be a debate on which PPC platform is better out of the two, businesses and marketers alike are missing out on a trick if they isolate either platform. 
Naturally, the two platforms are competitors if you look at it from the perspective that they both do a similar job. But rather than pitting them against each other, they actually work best hand in hand. It's important to shift our thinking from Microsoft Ads vs Google Ads, to Microsoft Ads and Google Ads.
But, let's delve deeper into both PPC giants to determine their similarities, differences, relationship, and most importantly, how they can work hand in hand to provide greater revenue.
Let's start with a little bit of information about both of the PPC giants.
Google Ads
Within the Google Ads platform contains two advertising networks to choose from:
The Search Network, where the advertiser creates text-based ads to appear on the search engine results pages (SERPs).

The Display Network, where the advertiser creates an ad that utilises imagery and photography to appear on a number of websites across the internet.
Paid search network advertising is considered a pull method of advertising, the user already has an idea of what they need and your service appears front and centre to entice the user. Display network advertising on the other hand is considered a push method of advertising. The user isn't necessarily searching for your product or service, but may be on a related website so an ad is pushed towards them to garner interest.
Microsoft Ads
Microsoft Ads (formerly known as Bing Ads) has three search engines within it, Bing, AOL and Yahoo, meaning any advert created is pushed across all three search engines, including partner sites. Essentially, you are getting three for the price of one so to speak.
Microsoft Ads vs Google Ads
So how do both of these PPC platforms stack up against each other?
Description Text
Up until recently, Google allowed two separate description lines limited to 35 characters each, and Microsoft offered one line with a maximum of 71 characters. Both Google and Microsoft now allow a field with 80 characters.
Keywords
As both Google and Microsoft offer keyword research tools, broad match targeting and negative keyword targeting, the main difference between the two platforms is that traffic volume is much lower on Microsoft.
Click-Through Rate
Yahoo and MSN both offer financial reporting, so Microsoft ads tend to have higher click-through rate (CTRs) in shopping and financial services search verticals. The reasons for this is they offer many shopping and financial resources and ads in those search verticals on those platforms reach highly-interested prospects, receive more engagement, and have higher CTR.
Of course, there are a number of other verticals which can do better on one paid search platform or another, but this is where trial and error or combining both PPC platforms as part of a combined strategy could work.
Language 
On Google Ads, users are able to serve ads to multiple countries targeting over 40 languages, from Arabic to Vietnamese. Microsoft Ads on the other hand only allows targeting of up to 12 languages. 
Interface/Updates
When it comes to proactively changing and updating the capabilities of PPC, Google Ads is considered to be the innovator in this regard. There have been multiple instances of Microsoft Ads following the trend of Google. For example, Expanded Text Ads and Structured Snippets, are all features introduced by Google, later integrated into Bing. After all, you are able to import Google Ad campaigns into the Microsoft platform, not vice versa. 
Targeting
There are a number of targeting options available from both PPC platforms to create some highly relevant ads. Google Ads' options for targeting include the likes of audience targeting (remarketing, similar audiences, demographics, custom-intent) and content targeting (placement, topics, display extensions for search, content keywords).
Microsoft Ads do not have as many targeting options available, however, you can still target users on a number of different factors, from location, weekday, device, demographics and more, to build a highly targeted ad.
Reach
The reach difference when it comes to searches that take place between Google and Bing (where Microsoft Ads are served) is vast. According to Statista, in January 2021, Google accounted for 85.86% of all online searches, with Bing only accounting for 6.84%. Fast forward to January 2022, whilst Google has slightly dropped to 85.55% and Bing slightly increased to 7.61%, it's clear to see Google is still king when it comes to search habits.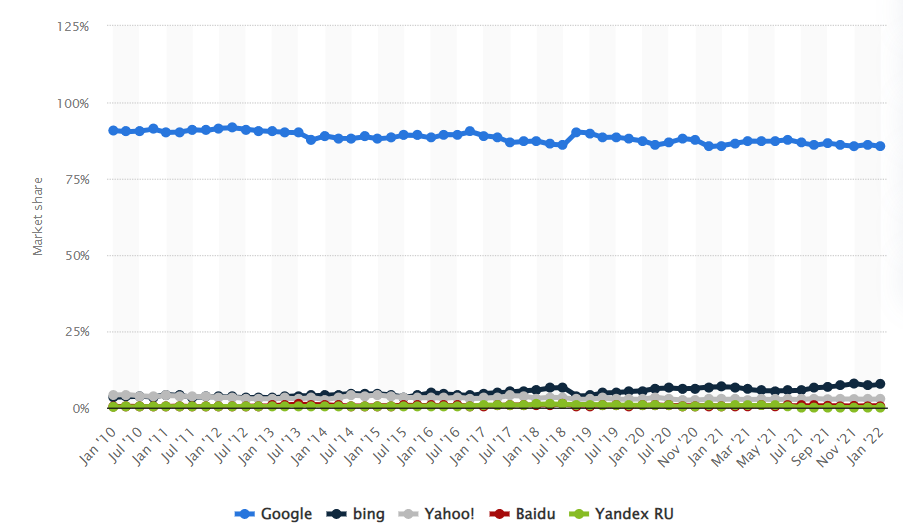 However, Bing is no slouch when it comes to whether you should serve Microsoft Ads on its engine. For example, Bing gathers over 1.2billion searches per month. To add to this, it has over 724 million unique PC users across the Microsoft search network audience. Think about it, as a business you may be missing out on over 1 billion searches a month by not utilising Microsoft Ads. 
Besides the ability to reach a much older and more educated audience, Bing allows advertisers to attract users ranging from 35 to 54 years of age largely, as the pie chart depicts.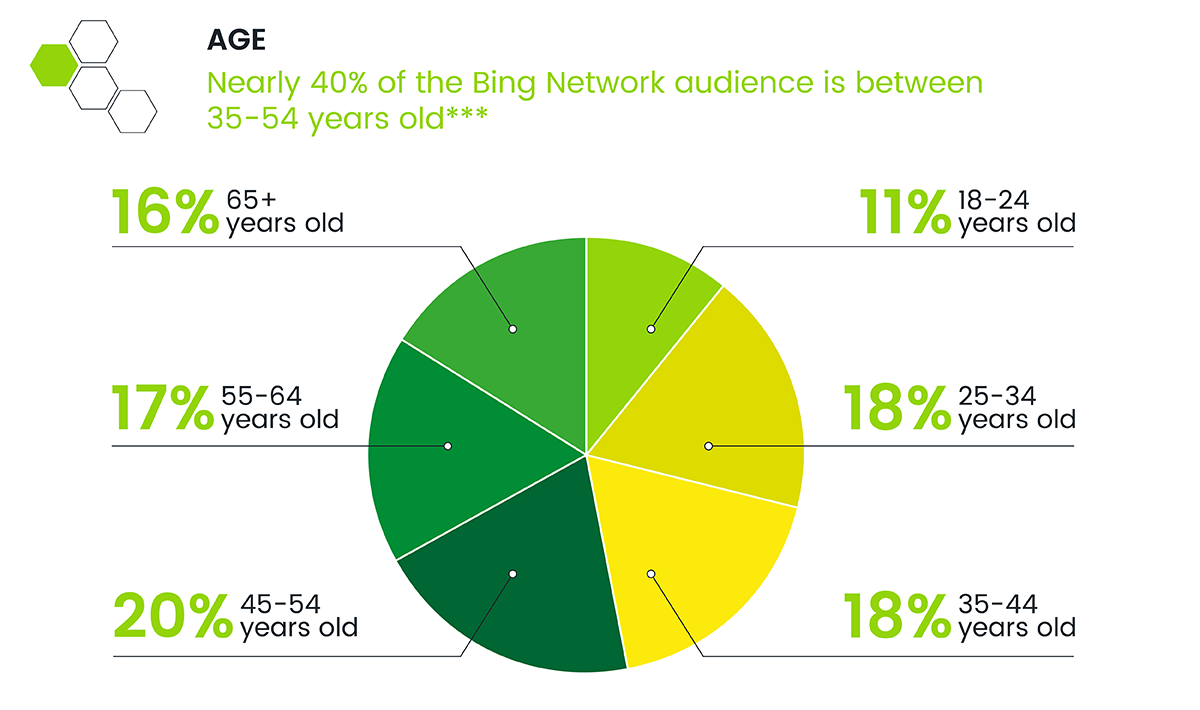 As well, over one-third of the Bing Network has a household income of over $100,000, and close to 50% of the network has a household income of $75,000 or greater: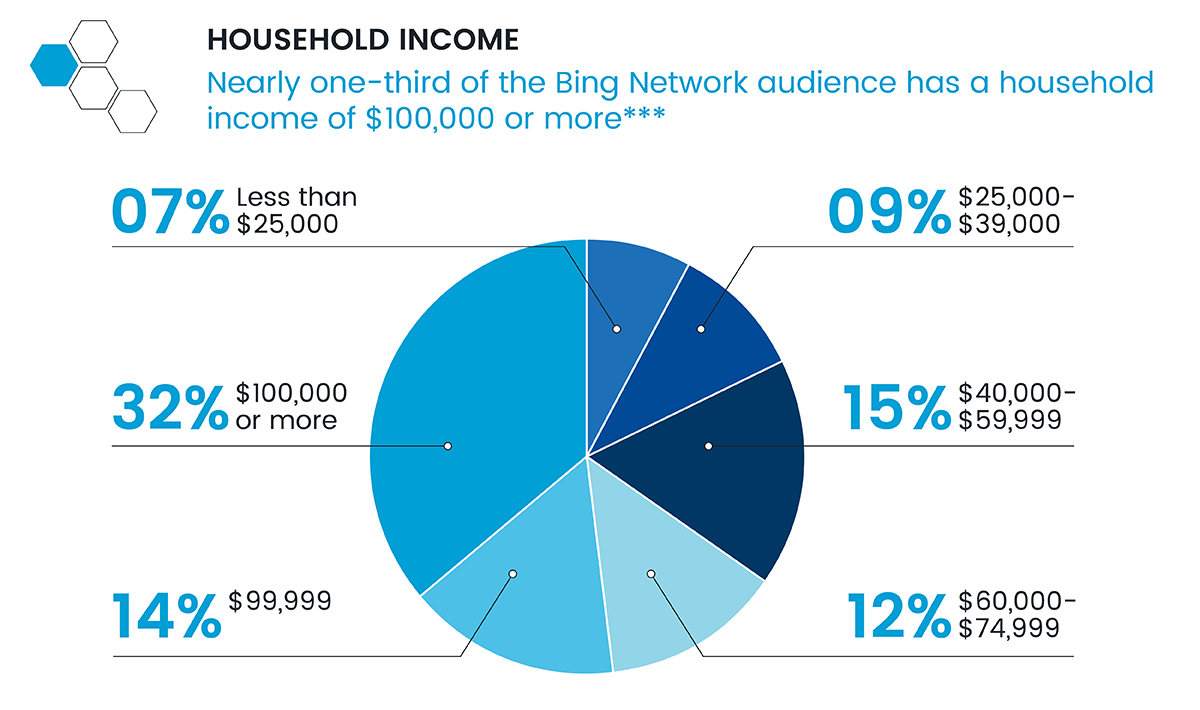 Cost
Whilst Google Ads wins when it comes to sheer volume, Microsoft Ads certainly makes up for it in performance. Although costs naturally fluctuate based on advertiser, keyword competitiveness and a whole other host of factors, Microsoft Ads are generally seen as the cheaper PPC platform of the two.
In fact, campaigns on Microsoft Ads face around 36% less competition than Google Ads. Given that the average cost per click on Bing is £6.60, compared to £16.59 on Google, this can produce a massive impact on your overall average cost per click (CPC). That's a difference of around 60%.
So which PPC platform is the best?
If you only have budgets for one PPC platform, then Google Ads is the best starting point to delve into pay-per-click. It contains the most users, has more targeting options and stays ahead of the competition in terms of adding services and features to increase ad efficiency. Furthermore, it's much easier to simply import your existing campaigns through to Microsoft Ads whenever you're ready.
However, hopefully, by reading this blog you have realised the best strategy is to leverage the capabilities of both paid search platforms simultaneously.
Whilst Google Ads are front and centre of a PPC strategy, Microsoft Ads are brilliant for complementing the work of your Google campaigns, plugging any gaps in your online presence. With both platforms working simultaneously, businesses are able to increase their reach into new territories and reach users who may have a preference for Bing over Google. And even though Google has a much larger search pool, Bing boasts higher placement, less bidding competition, and generally a lower cost-per-click via Microsoft Ads.
If you want to find out more about PPC or Google and Microsoft Ads, then why not drop us a line or call us today!