Over the past few weeks, we've supported many of our clients with website changes and digital marketing campaigns in the face of national lockdown, and we hope their stories will help to spread a little positivity at this hugely difficult time.
#1 The British Premium Sausage Company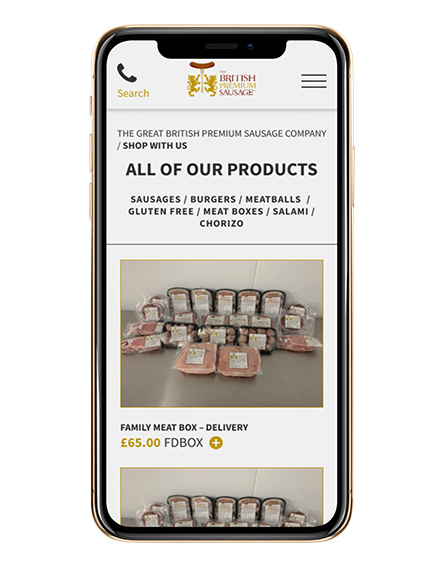 Wholesale sausage supplier, The British Premium Sausage Company, is passionate about the great British banger, boasting multiple awards and clients including Waitrose, Tesco and Ikea. Directors Andy Dalton and Ian Cundell have decades of experience supplying hotels, restaurants and food servicing businesses across the UK, Europe, and further afield, with premium sausage and meat products.
In response to the COVID-19 crisis and subsequent restrictions on movement and food sales, the firm introduced a variety of family-size meat boxes for purchase through their online store. Not only does this take away the hassle of queueing two metres apart outside the supermarket, but it also allows families to remain safe at home with quality meat delivered straight to their door.
https://www.britishpremiumsausages.co.uk/
#2 Gauntlet Group
Kariba has worked with commercial insurance broker and appointed representative network principal, Gauntlet Group, for over 15 years. The company offers all types of business and professional insurance advice and protection, health and safety consultancy, and comprehensive risk management services. In addition, 2019 saw them celebrate 10 successful years of their broker network, Gauntlet Enterprise.
Usually operating from their office in Leeds, the company have been forced to quickly adapt to supporting staff, appointed representatives and clients remotely. For a company that prides itself on offering a personal, face-to-face service, this has been no mean feat. Nevertheless, in just over a week, the company revolutionised its telephone and IT systems,  with high-security remote working platforms and use of video conferencing software enabling them to continue providing the same professional service to clients and partners.
#3 Gilchrist's Bakers
Leeds-based family bakers, Gilchrist's, has been making freshly made cakes, sandwiches, and bread on their premises for over sixty years. Now with three bakeries in Leeds and one in Boroughbridge, as well as tearooms on-site, the company prides itself on the quality of its baked goods and its commitment to locally sourced ingredients.
Gilchrist's contacted Kariba almost as soon as "lockdown" hit. Concerned that regular customers and local people were struggling to buy the basics for their families, the company commissioned a reactivation and revamp of their online ordering facility. This simple feature took barely any time at all to develop but provides a vital resource for the community.
#4 Smiles&Miles Tutoring
Smiles&Miles Tutoring is a York-based home tuition business, that provides highly-skilled, qualified teachers to work with students aged 5 to 18+ in the majority of KS1-KS5 curriculum subjects. The firm approached Kariba in 2018 as a Business in a Box client, looking for a professional brand and brochure-style website.
With schools closing and families forced to stay in their homes, Sarah and her team of tutors were rightly concerned that students should not lose out on education. As such, the team has quickly adapted by making use of Zoom's video and screen-sharing features. Not only has this enabled the firm to continue providing home-schooling services, but it has also offered valuable respite for worn-out parents and carers!
https://smilesandmilestutoring.co.uk/
#5 Harrogate Hospital & Community Charity
Harrogate Hospital and Community Charity has been at the heart of the NHS turmoil. The charity raises funds for specialist equipment, training, and services beyond the provision of the NHS to improve treatment and facilities at Harrogate and District NHS Foundation Trust – both at the hospital and in the wider community. Like non-profit organisations across the UK, the charity saw its biggest fundraising streams dry up almost overnight, with events cancelled and donations on-site scuppered by restrictions on hospital visits.
Following the outpouring of support for NHS staff during the coronavirus crisis, the fundraising team has gone above and beyond to ensure information and facilities are available online to enable the local community to donate. This was possible thanks to a flexible and fully content-managed WordPress website designed and developed by Kariba in 2019, as well as ad hoc digital support to develop the site in response to the charity's growth.
What should business owners take away from these organisations?
Obviously, it's not possible for every firm to take their business online. The hospitality, leisure and tourism industries will be particularly hard hit during this crisis, but we can all help to keep our favourite brands in mind by liking, sharing and commenting on social media channels where possible. Flexibility and adaptability will be key qualities organisations need to survive this crisis, and this may mean thinking outside the box to respond to customers' changing needs.
The important thing to remember is that stopping all marketing is likely to be counterproductive in the long run. You may need to tighten your belt in terms of advertising spend or launching new campaigns, but keeping your customers engaged is a vital way of ensuring your brand is at the forefront of their mind when doors reopen later this year. Showing a willingness to help, sharing relevant content, and demonstrating positivity in the face of adversity will help to increase brand awareness and support future sales.
Want to hear more positive stories like this? Follow us on LinkedIn for our latest digital marketing, branding and website updates.