LinkedIn Guide Contents
Kariba's LinkedIn guide
Whilst managing our clients' social media accounts including LinkedIn is a core service offering, it is important business owners also understand and appreciate the benefits that LinkedIn can provide for their business.
With this in mind, we have created a short business owners' LinkedIn guide to getting the most out of the platform. 
Why use LinkedIn for your organisation?
With many small businesses, having business social media accounts can be considered as a tick box exercise, realising your competitors are on social media and not wanting to fall behind, without really focusing on the why.
But why should you put more focus on LinkedIn? 
Quite simply, it is a fantastic lead generation tool, allowing you to connect with your target market, build credibility and gather insider expertise from other thought leaders within your sector. In fact, 80% of B2B leads come from LinkedIn vs. 13% on Twitter and 7% on Facebook. Its lead conversion rate is 3x higher than other ad platforms such as Google Ads, which is no surprise considering 33% of B2B decision makers use LinkedIn to research prior to purchasing.
The benefits of a LinkedIn company page
Position yourself as a thought leader
By creating content that your audience wants to see and share with others in their network, means your viewers become advocates for your brand and increase your reach and influence. This is, in part, due to the fact shareable content is endorsed by the sharer, and therefore new viewers trust their time to digest the shared material.
To capitalise on this further, ensure content is made in as many formats as possible, from blogs, infographics, videos and podcasts to meet your audience's preferred viewing habits. For example, if your target audience are busy professionals who often consume their content on the go, a podcast may be a better option rather than a blog.  
Furthermore, your audience will have their preferred way of learning, visually, auditory or kinesthetically, known as the VAK theory of learning. So in a nutshell, making sure content covers all formats will increase its visibility further and as a result, your brand's reach.
Kariba Tip
Time can be in short supply with business owners who need to run their organisation day-to-day. Stretching content, allowing it to go further is a great way to ensure you maximise the potential of every piece of content on social media. As an example, create a blog for one piece of content. Next week, take a stat from the blog and create a social graphic for a second piece of content. You've essentially used the same piece of content and broken it down to make two pieces.

Differentiate yourself from the competition
An extension of positioning yourself as a thought leader, you can create content and use the company description section to emphasize what your competitive advantage is over the other market players. 
Warm leads to the point of conversion
Whilst there is no exact science to selling, research does state that it takes approximately 8 touch points before a prospect considers you for their requirements. What this means is that your audience needs to be exposed to your brand a minimum of 8 times to stand a chance of you converting them.
If we take a step back and look at the customer journey, this can be explained further. Awareness comes from the first few touchpoints as your customers become aware your business exists. In other words, the consumer becomes familiar with the brand through channels, including social content and word-of-mouth.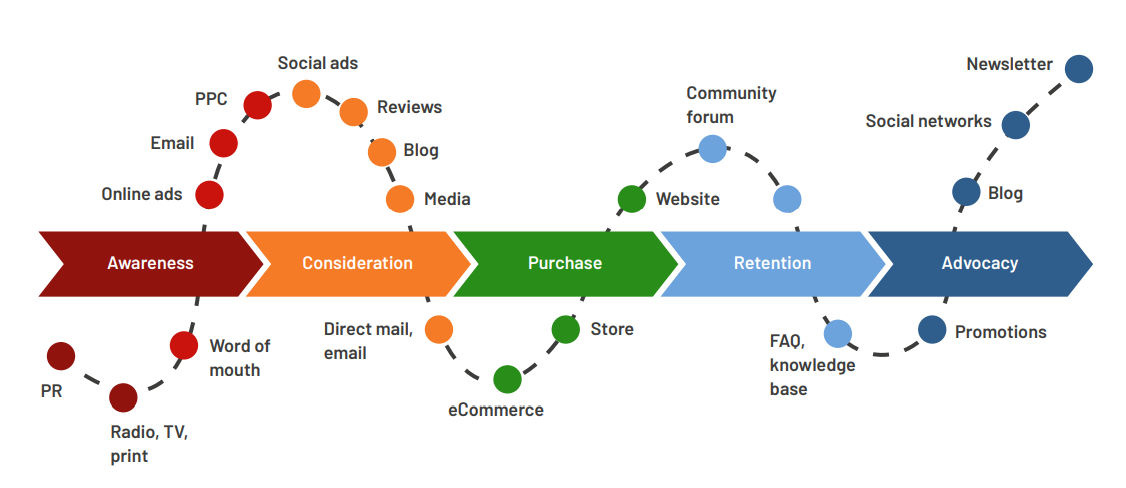 However, it is at the consideration stage where your audience realises that they have a need that must be met. It is here where the consumer actively considers whether or not to buy the product or service on offer.
This is where your touchpoints are invaluable. As there is so much 'noise' on social media, it's only natural brands get forgotten. By consistently being in your audiences' space and making them aware of your presence, when it comes to researching in the consideration phase, your business will be front and centre of their minds to begin with. If they do a deeper dive and see pertinent content is pushed weekly and endorsed through reshares, it builds a picture in the mind of your prospects that you are thought leaders who are trusted and experienced to solve their current needs. 
Kariba Tip
Call To Actions (CTA) are a great way to speed up the customer journey. For example, if a prospect reads your blog and you have a CTA in the footer to view your services or products, they may view the page and realise they serve a need they didn't know they required serving. This could lead to a purchase of a product, or a call for further information.


Assess the competition
According to the Content Marketing Institute, the majority of B2B marketers use LinkedIn to publish content and this can be used to your advantage. 
If you view your competitors' company pages, you will be able to track and monitor what content they are using to engage with their audience (which is also your audience). Have they created a helpful guide for their followers? Are they using a lot of infographics? Is there some breaking news you can pick up and republish on your account?
Regular monitoring will allow you to keep up-to-date with competitors and ensure you're never missing a trick. You will also be able to see who is engaging with their material and perhaps give them a follow on your personal LinkedIn so they become exposed to your own content.
Kariba Tip
Use a tool such as Buzzsumo or Google Alerts to find breaking news before your competitors do and push this out on your channels. It's here you'll also be able to find ideas for new blogs. If you can reliably be seen as the channel for new, engaging pieces of content that your audience has yet to read, you will soon build a trusted audience who is ready to consume and reshare your material.

Improve your search rankings
Your website is your bread and butter and ideally that's where you want to lead your prospects to. Well, by building and optimising your LinkedIn company page, you can in fact improve your visibility in the search engine results pages (SERPs). 
Improving your search engine optimisation (SEO) brings with it a host of benefits, from seeing an increase in website traffic, downloads of your brochures or calls to your office. In a nutshell, it's good to have more targeted traffic. As setting up a LinkedIn company page is free, it therefore makes no sense not to have one.
You also get a host of further intel to help steer your future content efforts. For example, you can gain deeper insights on:
How engaging your individual posts are

What resonates with your audience

Identifying trends across key metrics

Who your follower demographic is

What the top sources are

And plenty more!
This intel can be used to then determine whether a new audience could be targeted through paid ads, or the type of content that will most likely go the furthest for your time. This is all great analysis that you will miss out on if you're not using your LinkedIn company page effectively.
Kariba Tip
Use a combination of created (original) and curated (shared) content if you're struggling with time to post material on LinkedIn. Breaking news doesn't require your own spin on things, it's about getting it to your audience as quickly as possible. However, getting the balance is crucial. If all you do is share content, your audience may cut out the middleman and use these sources as their first point of call for any industry news.

Hiring the best talent
There are over 756 million people on LinkedIn (July 2021), with 70% of the global workforce being passive candidates (not actively looking for a job). However 87% of these passive candidates would be open to a new role according to LinkedIn hiring statistics.
This means LinkedIn is a goldmine for finding the best talent possible that could completely transform your business. Remember, these are passive candidates so they are unlikely to be on job boards who are actively looking. 
Your company page can showcase the culture of working within your organisation, your benefits and even a snapshot of information about your current team to job seekers. These are all things candidates want to know when researching a company they may want to work for, according to Glassdoor.
Whilst you may not be in a position to hire, it's always beneficial to promote your company as a great place to work and connect with potential future talent. LinkedIn makes it easy to scope out who this could be as personal profiles almost act as CV's, where you can view a person's accomplishments, experience and certificates beforehand.
If you do all this beforehand, it means your recruitment process will be much smoother and most likely cheaper, than going through job boards or a recruitment agency where fees would be involved.
Kariba Tip
You can view your competitors' company pages and view their current employees. These could be good prospects for any new roles you are advertising for in the future, as they may possess many of the same skills you're looking for in your vacancies. 

What type of content should I post on LinkedIn?
Now that you know why it is so important to use LinkedIn, it's just as important to understand what content to post. Whilst the type of content to post varies depending on your audience preferences as mentioned earlier, there are a few content types that should be a staple within your overall social content strategy. Let's look into these below:
Video
Video is the most re-shared form of content on LinkedIn, with users x20 more likely to re-share video into their network. This is the best way to spread awareness of your brand.
Video can be in the form of case studies which are great forms of social proof, or even a short video series. LinkedIn does this, for example with their LinkedIn Marketing Minute series.
Statistics
Stats are great as they are cold hard facts. They're often easy to digest due to how quickly the content can be consumed. Try stretching content as mentioned earlier, by using stats from some of your blogs.
Events
If you have an upcoming seminar, advertising this on your company page will drive registrations towards your sign-up landing page, ensuring you're really maximising the chances to meet your connections face-to-face. 
Alternatively, if you've recently hosted a webinar, you can even provide a teasing snippet, providing you've recorded it.
Blogs
Blog posts are a great way to build thought leadership and authority in your space. You can even offer a personal twist on a timely or controversial topic. Considering 91% of executives use LinkedIn as their preferred content source, it's vital your business is providing them with a reason to keep coming back to your brand.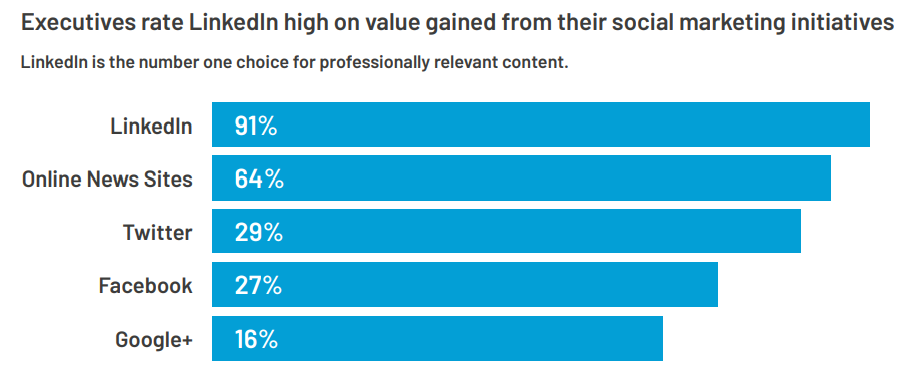 Source: LinkedIn
Original research 
Research can come in the forms of ebooks or guides. For example, have you conducted a survey within your database and found some interesting trends? Then this is great, unique information that you can share with your LinkedIn audience. 
Shared news
On the other end of the spectrum to original research is news from reliable and relevant outlets, that can be reshared to your page. As mentioned earlier, if news is breaking, your readership would most likely have heard of this by the time you create your own spin on the story. In this scenario, simply posting it as it breaks is more effective.
Whilst there are a number of other types of content that would be useful across LinkedIn, the above content types should make up the foundation of your company page. If you're curious about what else you could post across your LinkedIn profile, take a look at the below content marketing mix.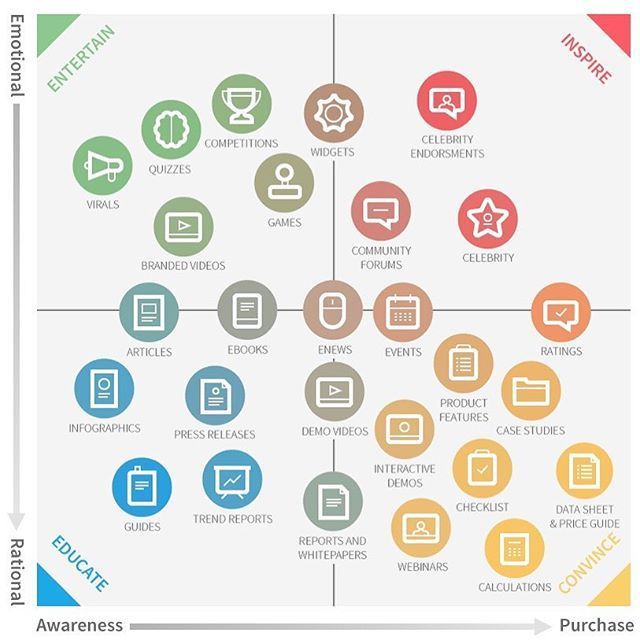 Source: Smart Insights
The personal profile
Whilst building your company profile is hugely important, it's just as important, as a LinkedIn user, to ensure your personal profile is correctly utilised as well. There is a variety of research that suggests humanising your brand can provide an opportunity to create enormous social and economic value.
Consumers also prefer to purchase from organisations whereby they can attribute a face to the brand. After all, people buy from people. Whilst your organisation may sell services or products, it is a person employed within your company that will implement the product into the purchasers business.
The key benefit
The one key benefit of a personal profile is that it allows you to build a network. Whilst a company page has followers, your personal profile has connections. This means you can actively find and connect with potential customers and feed information through to them with content you share. 
To simplify, you can connect with relevant people to influence who sees your content, whereas on your company page only those who follow the page can see company posts. 
So what should you actually do with your personal profile?
Our LinkedIn guide has looked into the company page, but now it's time for you as an individual. Once you've ensured that your profile is completely optimised (see our checklist below), you need to start posting on the platform. Small business owners such as yourself may not have the time to post, but you need to make some. It's as simple as that. Even a quick 30 second post every week highlighting your services and to drop you a call if anyone needs any support can go a long way.
You should also be liking, sharing and creating conversation within posts on your timeline. This is where you will be able to offer your thought leadership by answering questions, providing opinions or offering alternative views. It also acts as one of the minimum eight touchpoints you need to reach the consideration stage mentioned earlier.
If you have some great content going out on your company page, this is where you can reshare it to your own personal network too. If you can, turn any company articles into personalised articles too. 
Quick guide to personal LinkedIn posting
There are a few easy steps to follow on our LinkedIn guide in order to get the most out of blogs and other content on the social platform. 
Creating articles
Go to the LinkedIn homepage. You will see a screen similar to this:

Click 'Write article'

If you are prompted who to write the article by, click yourself and then next

Add the header image that will be supplied to you via in email

Add the headline (this will be the title of the blog)

Copy and paste the article (it will most likely be on the site already), ensuring all links and images are also inputted

At the footer of the article, ensure the following is put in 'This post originally appeared on (site URL)' and make sure this is linked back to the website blog URL in question

Hit 'Publish'

You will be presented with a pop up where you can then add your own slant of commentary on the blog along with hashtags (this is what will be fed out on your timeline to your network so try to make it personable)
Sharing posts
Go to your LinkedIn page

Ensure you are viewing the page as a member. In the top right corner if it says 'View as member' it means you are currently in admin mode so click 'View as member' (If you are already in member mode it will say 'View as admin' so in this case you don't press anything).


Click 'Posts'


You will now be able to see the company posts and from here simply 'like' but more importantly 'share'

Like with step 9 of articles, this is where you will add some commentary and hashtags
Kariba Tip
It is important to try not to like and share content in bulk as your audience will simply be spammed. Also, the purpose here is to drip feed content across to your network on a regular basis. By doing this, you will be targeting people at different times and days, increasing reach and also keeping the business at the front and centre of everyone's mind.

If you are only able to share something once a fortnight, this is much better practice than trying to 'catch up' in bulk.

Bonus important step
This step of our LinkedIn guide is crucial in obtaining targeted connections to follow your company page. This means more targeted exposure to anything posted on the company page.
LinkedIn now has a feature where you are able to invite 100 people a month to your company page. However, the caveat here is you can only invite people who are personally connected to you, i.e. your own social network.
Once someone has been invited, they cannot be invited again. Credits do also not roll over, so make use of your 100 requests a month.
Ensure you are viewing the page as an admin (so make sure 'View as member' is at the top and navigate to where it says invite more connections.



Invite your social network
This is another reason why ensuring you are using your personal brand to connect is crucial, as anyone connected with you can also be invited to follow the company page.
Professional LinkedIn profile
Does your LinkedIn profile represent what you can bring to the table for an organisation? Is there anything that you would like a potential customer to know about that you don't have on your profile? Well unless you tell them, they won't know.
As a business owner, your LinkedIn profile should provide the impression that you are an expert and thought leader in your sector. After all, you're an owner of a business and clients will be putting their trust in you, to meet their goals and objectives through your services. 
However, if your profile does not come across as you being an expert, how can you expect your target audience to have confidence in you to be the expert they need? 
Our quick LinkedIn Guide Profile Checklist will ensure you're in a position to strike confidence rather than caution in anyone who visits your profile.
Download LinkedIn Guide Profile Checklist
Final takeaway
Technology is always evolving, meaning the way business owners must promote their brand and market themselves is changing too. With the rise of social media platforms and big data, it's never been easier to get your brand out to the audience that matters most, but it's up to you as the owner to lead from the front.
LinkedIn provides us with a platform to create company pages to define and promote our business, research what our competitors are doing, find new inroads with analysis and share meaningful content, to position us as thought leaders in the sector. 
Whilst we hope you found this short LinkedIn guide helpful, the above tips and hints only provide you with a solid foundation for success on LinkedIn. Your business needs to be coupled with a watertight content and social strategy. This is crucial and our blog on this will explain exactly why.
However, we understand with the day-to-day running of a small business, dedicating time to bolstering your brand awareness isn't always an option. So if you want to ensure that your brand online is strong, Kariba can support with a number of high-quality social media and brand building strategies across LinkedIn and other channels, to navigate these challenges and gain meaningful engagement from consumers online. Simply contact us today.