However, with the number of cases still problematic and the potential for tighter lockdown restrictions at any moment, businesses can't afford to wait any longer. They must follow the consumer, and with latest figures suggesting online non-food sales increased by 44.8% last month, there is a growing trend of online shopping. It's clear the consumer is very much online.
The growing trend of online shopping
Consumers are now interacting with businesses 60% online and 40% offline, providing opportunities for organisations who hope to have a successful 2021, to implement a solid online strategy. 
Whilst some businesses may be content with letting things unfold and hoping for a return to traditional methods of purchasing, such as in-store, figures from Office for National Statistics state otherwise. Even pre-COVID, the number of consumers opting to make purchasing decisions online was steadily increasing, with the pandemic seeing these figures soar.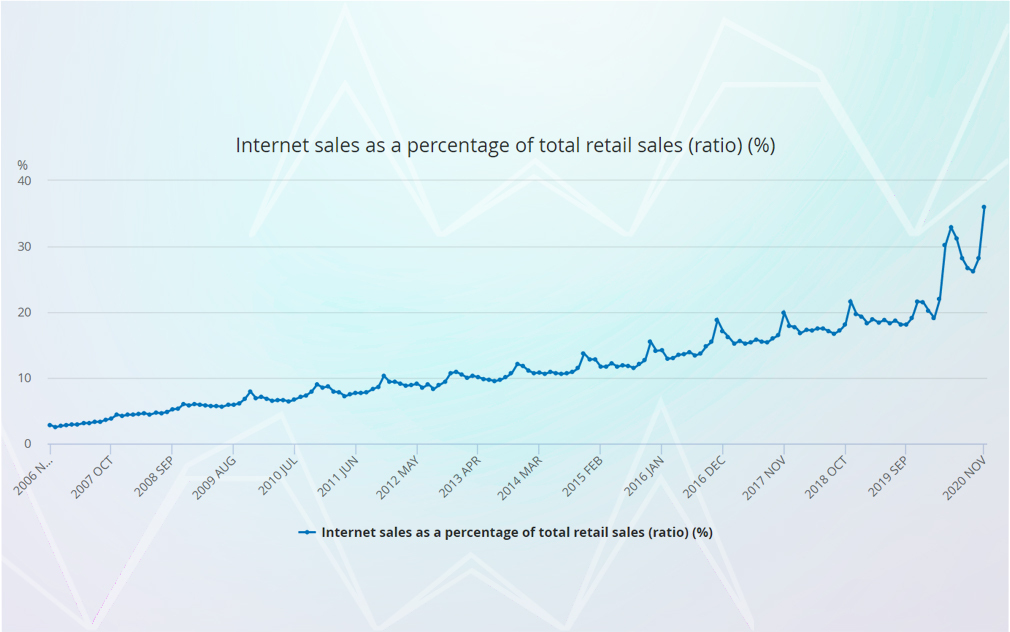 Furthermore, according to Statista, online retail sales accounted for 14.1% of all retail sales online, which is expected to grow to 22% by 2023. It's therefore clear to see that the growing trend of online shopping is here to stay.
So consumers are online, but what do businesses need to do to pandemic-proof their business?
Pandemic-proof your retail business
Firstly, businesses need to ensure they are flexible and resilient. Unfortunately, a number of smaller and large scale businesses have gone into administration due to the pandemic, from Arcadia Group to Bensons for Beds. However, one way to stay afloat is by wrapping your businesses around the online consumer. Granted, for some businesses, online isn't an option, but for many it is a viable solution. It's important to take this unique opportunity to adopt new technologies and improve online infrastructure to better meet customer needs. 
For example, with less face-to-face interactions, consumers are turning to chatbots, with 41.3% of consumers stating they used a chatbot to make a purchase in 2020, and 67% of consumers worldwide using them for customer support. But has your business offered flexible solutions for consumers on it's website such as chatbots? If not, sales will be leaking.
Another way for organisations to become pandemic proof is to find new sales opportunities. All businesses want to remain ahead of the competition, looking for new and innovative ways to lengthen that gap. How consumers act is a great way to find these new opportunities. For example, according to Mckinsey, 34% of people tried a new brand online in the last 3 months due to convenience.
Make the user experience a priority
But how does your website's convenience measure up? Is the user experience friendly? Quick to load? Are your product pages up-to-date? Optimised for mobile? These are all extremely important, as 39% of people will refuse to engage with your website if it takes too long to load, with 57% not even recommending a business with a poor mobile website. If your site isn't optimised and user-friendly, expect this influx of online consumers to make their transactions elsewhere. 
Whilst the growing trend of online shopping is rapidly rising, we understand with the day-to-day running of a small local business, dedicating time to ensuring your online presence is pandemic proof isn't always viable. However, the COVID outbreak has only shifted consumers to support local retailers, intensifying the opportunity available to smaller businesses. So if you want to ensure that you're providing your customers with value and dominating the competition during the pandemic, Kariba can support with a number of proven strategies.
So why not get in touch with Kariba for a free consultation today on 01423 593020.