In the age of social media, businesses have more opportunities than ever before to engage with potential customers and increase revenues through online channels. However, you may be surprised to hear that email is still one of the most powerful digital marketing tools for both customer engagement and acquisition.
Is email marketing right for your business?
Email is an integral part of the online experience, indeed of life, particularly as social networking and online shopping sites require a valid email address for users to open an account. Earlier this year, marketing research term Radicati published research that suggests the number of email users worldwide will reach 4.3 billion by the end of 2023, with in excess of 347 billion emails sent each day.
Despite these near-incomprehensible figures, Chief Marketing Officers of some of the largest global B2C and B2B organisations continue to cite email as their most effective marketing channel. For the UK, the average open rate for email marketing campaigns is around 22%, but can be as high as 49.7%, depending on the industry and the way in which the campaign is optimised (IBM, 2018 Marketing Benchmark Report). Whatever industry you're in, it is likely that some form of email marketing will deliver positive results for your business
Common email marketing techniques
Customer Acquisition
Rented or purchased list – acquired from a reputable organisation, this can offer a way to reach new customers quickly. You can either purchase data to use in-house or have the company send emails on your behalf. The response rate is often lower than for other methods.
Third-party e-newsletter – this usually involves placing an advert, banner or paid for content in another organisation's e-communications. It is a good way to reach people who aren't already aware of your business and saves you time building up your own house list.
Co-branded mail – some organisations, particularly publications and membership organisations, will send a branded email to their list on behalf of your company. This is often more effective than advertising in a third-party email, as it offers you complete exclusivity.
House list – if you have your own list of prospects who have opted-in to receive email communications, you may like to send a regular newsletter or free digital content. These are great ways of keeping your brand in mind while avoiding direct selling.
Triggered email – this is an email automatically triggered by an event such as an abandoned purchase or a newsletter sign-up.

These usually employ a specialist platform such as MailChimp or DotMailer or, if you're an online retailer, they may be included in your eCommerce platform. They are a great way to improve lead conversion.
Customer Engagement
Techniques such as triggered emails can also be used to engage or re-engage with existing customers, provided you still have permission to contact them. If you have your own house list, you may like to try:
A welcome or re-introduction series

for new customers or those who have not purchased in a while.

Email updates or newsletters.

These are usually sent on a regular basis (weekly or monthly) to users who have specifically signed up to receive email marketing communications. The best campaigns use so-called "dynamic" content so that users receive emails tailored to their interests.

Abandoned cart emails are often employed by B2C organisations to prompt potential or existing customers who fail to complete a purchase.
Free content, offers, surveys and competitions – who doesn't love free stuff? These sorts of campaigns are another good way of keeping your brand in mind without directly selling.
Direct campaign – you may have recently launched a new product, or be looking to re-engage with customers you haven't heard from in a while. Always remember to include a strong call to action and keep your messaging simple so that your customers understand exactly what you're asking them to do.
More about digital marketing from Kariba
Email marketing and data protection
The advent of GDPR caused many businesses to question their use of email marketing. Those that were already sending regular campaigns were forced to ask their customers and prospects to reconfirm while others erased all but the most current customer data to avoid being fined. Eighteen months on, interpretation of the regulation is no less hazy. This has been compounded by uncertainty about the UK leaving the EU, which has delayed the introduction of the UK's own "e-privacy" regulation governing electronic communications. At present (October 2019), the EU's e-privacy law still stands and this aims to complement GDPR in protecting users online. But don't let this put you off. There are a few points to consider to make sure your email marketing is bulletproof.
Never send an email to someone for whom you cannot confirm subscription.
Make sure that when someone opts-out of receiving email communications, you remove them from your mailing list immediately.
When creating your own house list, choose a double opt-in subscription method. This means list members initially opt-in to receive email communications and are then sent an email to confirm that they are happy to receive future correspondence, which they must respond to affirmatively. Most reputable email platforms offer this functionality.
Allow users to opt-out. Put an appropriate form or email address on your website to enable this. Even better, allow users to choose how they want to be contacted (phone, email, direct mail etc.) and what types of communications they wish to receive (newsletter, special offers, specific sector or interests). Savvy businesses allow users to change an online profile, which includes options to receive certain communications, reduce or pause the number of messages they receive or opt-out entirely.
Ensure any partner organisations you work to distribute email campaigns have the same high standards and interpret e-privacy regulation in the same way you do. This will avoid any bad publicity for your business in the long run.
Getting started with email marketing
Planning is the most important part of email marketing. Before deciding to send a campaign or start building a list, you will need to think about your:
objectives – what are you trying to achieve?
budget – how much are you willing to spend?
resources – do you have the time, skills or software to do what you want to do?
Obviously, it is always best to start small and build up your email marketing to a level that you feel suits your company and your customers. At Kariba, we provide email marketing support for clients that ranges from twice-weekly pricelist broadcasts to monthly recruitment campaigns. Templates are designed and built by our team and sent through our GDPR-friendly email platform. We can even integrate the service with clients' websites and CRM systems to make the process of managing customer lists even easier. And the best thing about email is that it is a fantastic opportunity to test and measure how your audience responds to different offers, products, phrases and design concepts.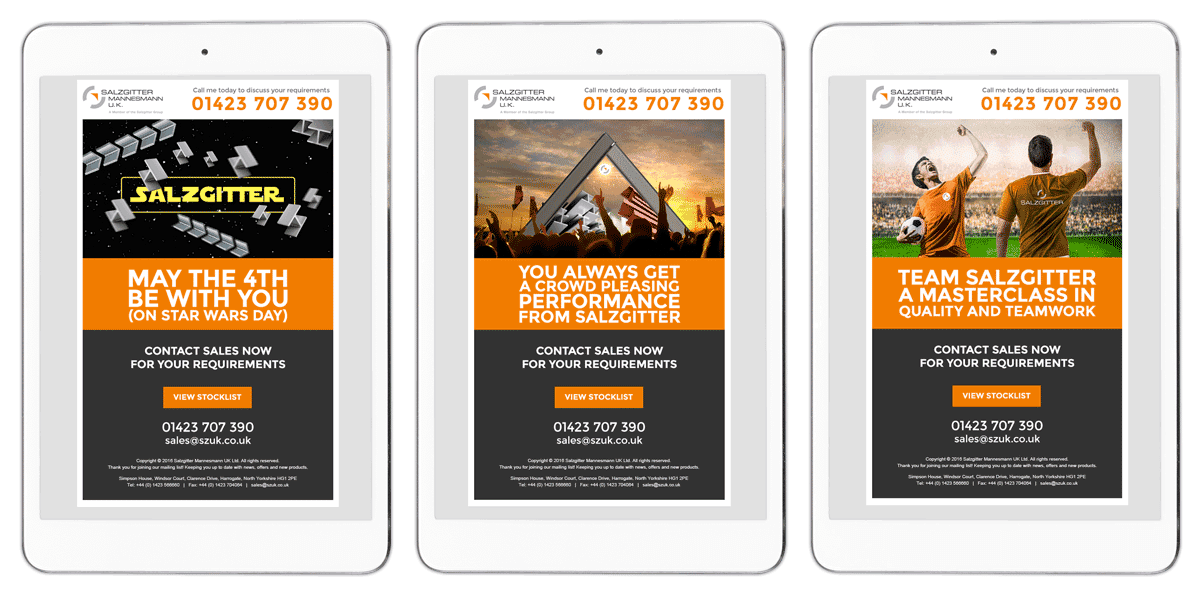 Investing in dedicated email marketing software can prove very costly, so you will need to do your research into the best option for your business. Alternatively, by investing in a digital agency, you can afford the luxury of a premium service for only pennies per email sent. We are always happy to chat and talk through options, so if you need advice on any aspect of getting started with email marketing, call us or email hello@kariba.co.uk.