Facebook ads are changing
If your business does any Facebook paid advertising, be it remarketing or otherwise, or you are planning at dipping into paid Facebook media, then you'll want to know about Facebook's new campaign objectives.
In a nutshell, Facebook will be streamlining its campaign objectives, from eleven down to just six. This change comes about in an effort for Facebook to push its Outcome-Driven Ad Experience (ODAX).
In some ways, this is positive news, as it makes it easier for advertisers to choose their desired campaign objective outcome, through Facebook's new automated ad products feature.
For any existing Facebook advertising users, there is no need to worry about what will happen with your current campaigns, as the rollout will not affect any live campaigns. Facebook is, however, offering us the ability to clone our existing campaigns until the end of 2022.
With the rollout coming soon, it's important for advertisers to understand just how a change from eleven to six campaign objectives will affect their business, to ensure little disruption on business as usual activities. Let's delve into this further.
Facebook's current campaign objectives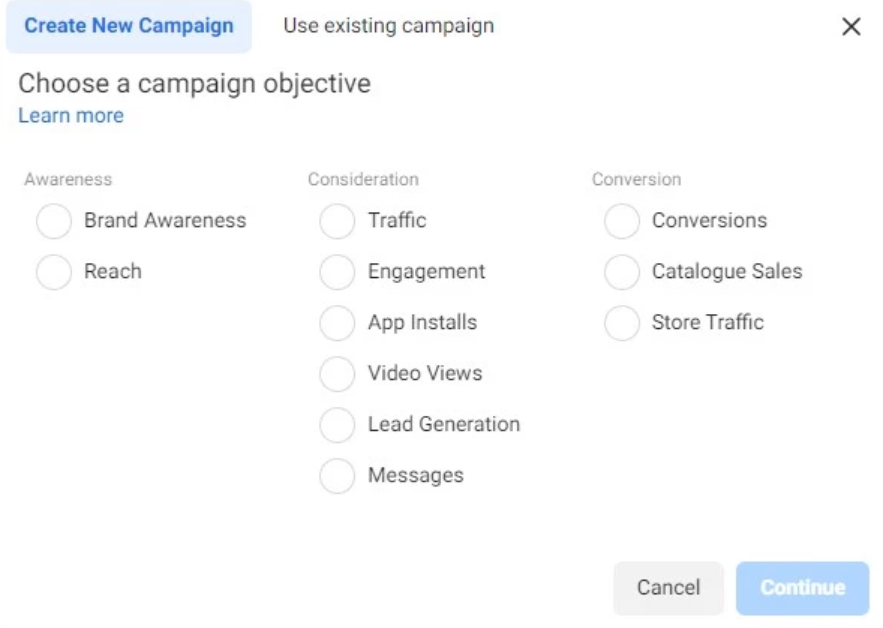 When creating a new Facebook campaign you are presented with the above screen. Advertisers are required to choose a campaign objective that aligns with their marketing goals. If you've created any Facebook ads in the past then this screen should be familiar to you. 
As mentioned earlier, at present there are eleven objectives to choose from, split into three specific goals, awareness, consideration and conversion:
Brand awareness

Reach

Traffic

Engagement

App installs

Video views

Lead generation

Messages

Conversions

Catalogue sales

Store traffic
Awareness is the moment a user initially discovers your brand/ business, product, or service offering. This is the first part of the customer journey as it is much harder for someone to become a customer without initially being aware of the offering.
Consideration is the stage once the customer has been made aware of the service offering. It is this stage where the prospect is potentially interested but not yet ready to buy – perhaps comparing you against competitors or waiting for a sale.
Conversion is when the prospect finally takes the action to purchase/ get in touch.
These are the three basic principles of a marketing funnel, and within these goals are a number of objectives to reach the desired goal. Presently, advertisers can still use any of these campaigns to reach any of these goals. However, that will change shortly.
The new Facebook campaign objectives  
Advertisers may be used to choosing between one of eleven objective types, however, must soon get acquainted with choosing between one of six. This is especially important if one of the advertising objectives you choose is no longer available. The new six campaign objectives ready to be rolled out are:
Awareness

Traffic

Engagement

App promotion

Leads

Sales
At first glance, this may seem like a step backward in providing a detailed level of targeting option to really hone in on your campaign goals, however, Facebook has stated that these new six objectives align with the old ones and have simply been condensed. The breakdown of the new objectives and their relationship to their predecessors can be found below: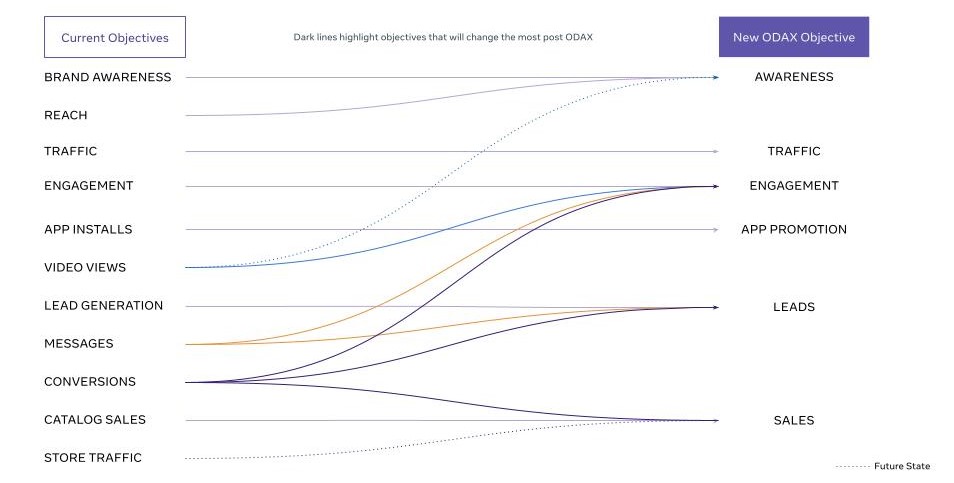 The effect on Facebook advertisers
Facebook has stressed that these changes have been implemented to make things easier for advertisers, by consolidating choice into six objectives, the process is streamlined. There is said to be no changes to the functionality of the ads or what can be reported on.
From a navigational perspective, the user experience is said to remain the same, other than simply choosing from fewer objective goals. There may however be an increase in uncalculated results in the Ads Manager reporting table, with certain result goals becoming defunct. 
One change that advertisers may need to get accustomed to however is that of leads and sales. Previously, "Conversions" was tied in with any conversion on your website, be it an actual lead or purchase. From looking at the new objectives, it appears Facebook is pooling currency-based conversions into the "Sales" objective, with leads (Facebook Ads leads & website leads) into the "Leads" section.
This may require some tweaking for any e-commerce businesses that currently have the conversion objective type set up.
There is another interesting piece of information that Facebook did supply in its announcement. It mentions that the new rollout will:
"Enable cross-channel campaigns: Once Cross-Channel Conversion Optimizations are available (e.g. website + app, website + shop), communicate the value of, and default advertisers into, these solutions make it easy for advertisers to adopt."
The wording here of 'Once' does potentially seem as if Facebook does have some new features in store for advertisers down the line. Whether this is a new cross-channel attribution tool or targeting options we will need to wait and see.
How can advertisers adapt to these changes?
These new campaign options will have the most impact on advertisers who use Conversions, Messages, or Video Views campaigns. In order to adapt to these new features, advertisers should educate themselves about the new Campaign Goals available within Ads Manager.
Advertisers should also look at which campaign objectives they may begin to use with the consolidation happening this year, to ensure they are ahead of the curve when the switch does occur.
Alternatively, if you feel you need some further support with your Facebook campaigns to really maximise their return on investment, then feel free to get in touch with Kariba on 01423 593020 or view our Facebook services here.